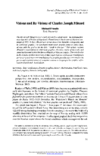 Michael Friendly.
Visions and Re-Visions of Charles Joseph Minard.
Journal of Educational and Behavioral Statistics, vol. 27, no. 1, pp. 31–51, 2002.
Download: from web
Charles Joseph Minard is most widely known for a single work, his poignant flow-map depiction of the fate of Napoleon's Grand Army in the disasterous 1812 Russian campaign. In fact, Minard was a true pioneer in thematic cartography and in statistical graphics; he developed many novel graphics forms to depict data, always with the goal to let the data ``speak to the eyes.'' This paper reviews Minard's contributions to statistical graphics, the time course of his work, and some background behind the famous March on Moscow graphic. We also look at some modern re-visions of this graph from an information visualization perspecitive, and examine some lessons this graphic provides as a test case for the power and expressiveness of computer systems or languages for graphic information display and visualization.
Keywords: Statistical graphics; Data visualization; history; Napoleonic wars; Thematic cartography; Dynamic graphics; Mathematica
@Article{Friendly02Minard,
  author = {Michael Friendly},
  title = {Visions and Re-Visions of Charles Joseph Minard},
  year = {2002},
  journal = {Journal of Educational and Behavioral Statistics},
  volume = {27},
  number = {1},
  pages = {31–51},
  url = {http://datavis.ca/papers/jebs.pdf},
}